Xylitol Health Benefits: A Sweet Alternative
"Strive For Five!"
Products with 100% xylitol make dental disease prevention both easy and sweet by reducing plaque and reducing the bacteria in the mouth that cause cavities.
Xylitol is a natural sugar substitute with antibacterial healing properties
Decreases the bacteria in our mouths that cause cavities/decay and gum disease
For pregnant women, decreases bacteria that spread from mouth to amniotic fluid
Moms who chew xylitol gum when kids are young (3mo-2yrs old), have kids who are 75% less likely to get cavities because the bacteria isn't being shared to their children
Helps stimulate saliva to wash away plaque, food, and bacteria after eating
Moistens dry mouth
Neutralize acidic pH in the mouth
Reduces insulin resistance and safe for diabetic diets
Better sugar substitute than other artificial sweeteners that cause weight gain
Nasal sprays with xylitol, decreases sinus, ear, and upper respiratory infection
Strive to get at least 5 exposures of 100%xylitol throughout the day for best benefits.  When xylitol is added to other sweeteners, the effectiveness decreases.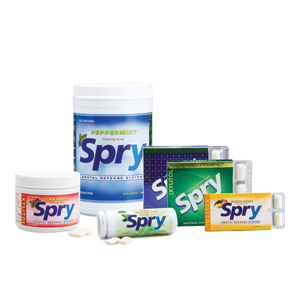 Recommendations:
Spry gums, mints, sprays, toothpastes www.xlear.com
More information or resources: www.xylitol.org
Dallas Functional Dentistry
Copyright 2020   Sarah Tevis Poteet, DDS, PA