If you have any questions, concerns, or would like to schedule an appointment, please contact us using the information provided below.
Dallas Functional Dentistry
Sarah Tevis Poteet, DDS, PA
8226 Douglas Avenue, Suite 859
Dallas, TX 75225
Phone: 
214-363-4414
Fax: 214-363-1315
Office Hours:
7:30-4:00 Mon
7:30-4:00 Tue
7:30-4:00 Wed
7:30-2:00 Thu
Closed Fridays
We provide valet parking for your convenience.
Please respectfully consider our policies.
We require a 48 hour notice of cancellation for all appointments.
Payment is due at the time of service.
We're are pleased to offer CareCredit and other financing options.
We accept Visa, Mastercard, Amex, check, or cash payment.
Questions ?
Contact Us by Email
We encourage you to contact us with any questions or comments you may have. Please call our office or use the contact form below.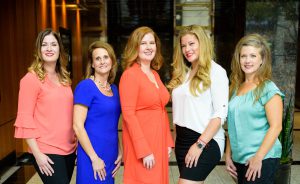 Kary, Michele, Dr. Poteet, Shira (not pictured Adriana, Tiffany and Chante)