Is your mouth putting you at risk of heart attack or stroke? The Inflammation Connection
written by: Sarah Tevis Poteet, DDS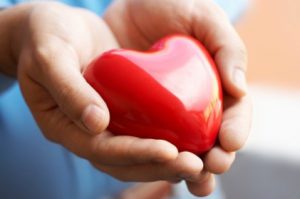 Inflammation in the mouth is associated with inflammation in the body.  People with gums disease are up to 35% more likely to develop coronary artery disease than patients with healthy gums.  Advanced research shows that healthy gums help prevent heart attacks and strokes so profoundly that The Journal of Periodontology and The American Journal of Cardiology issued a statement recommending that:
Doctors and Dentists warn patients with moderate to severe gum disease of their potential cardiovascular risks.
Patients with gum disease should get a complete physical exam and blood pressure measurements annually.
Patients should be evaluated for diabetes, high blood pressure and a family history of early deaths from cardiovascular disease.
Patients will need to be evaluated by their Dentist or Dental Hygienist frequently for periodontal cleanings to lower the number or bacterial load.
People with gum disease and one or more other cardiovascular risk factors, such as high blood pressure or high cholesterol, should be treated with lifestyle changes, and if necessary, medication. There are additional ways to evaluate your oral health, including saliva testing to determine if there are dangerous oral bacteria that may also harm your heart. This is a very powerful tool for using genetic information that can determine if you have an oral health problem – EVEN before you develop the signs and symptoms of gum disease. Gum disease along with increased levels of LDLs (the bad cholesterol) can cause a cascade of more and more plaque accumulation in the walls of the blood vessels, thus creating what we've termed an "Inflammatory Burden" on the body that can have devastating consequences.
What can you do?
See your physician and dentist regularly and let them know of family history of heart disease, diabetes, or gum disease
Ask your dentist if you have inflammation in your mouth. Ask for salivary testing to measure genetic and bacterial levels in the mouth that could impact your heart health.
Brush and floss your teeth 2 x day
A healthy diet and regular exercise
Know your blood pressure and A1C numbers
AHA Video "Just a Little Heart Attack"  https://youtu.be/_JI487DlgTA
GoRedForWomen.org  "1 out of every 3 women die of heart disease"
Red Road PSA  https://youtu.be/SyUl-P5zd_A
Cardio and Perio Disease video  https://youtu.be/N2wLjLDNDC0
Dallas Functional Dentistry
Copyright 2020   Sarah Tevis Poteet, DDS, PA