Dental Exam
A comprehensive dental exam will be performed by your dentist at your initial dental visit. At regular check-up exams, your dentist and hygienist will include the following:
Examination of diagnostic x-rays (radiographs): Essential for detection of decay, tumors, cysts, and bone loss. X-rays also help determine tooth and root positions.
Oral cancer screening: Check the face, neck, lips, tongue, throat, tissues, and gums for any signs of oral cancer.
Gum disease evaluation: Check the gums and bone around the teeth for any signs of periodontal disease.
Examination of tooth decay: All tooth surfaces will be checked for decay with special dental instruments.
Examination of existing restorations: Check current fillings, crowns, etc.
Airway screening to look for signs and symptoms of airway or sleep disordered breathing problems that often go undiagnosed
Professional Dental Cleaning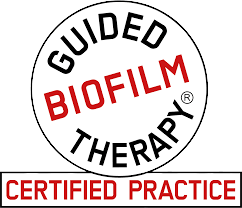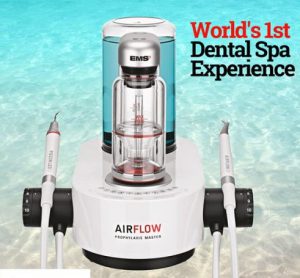 Professional teeth cleaning with GUIDED BIOFILM THERAPY makes you feel good. A cleaning session is like a wellness spa experience. The treatment is painless and does not damage the teeth. GBT is today's game changer and has nothing in common with the old dental hygiene methods from the '60s still being used today. With the EMS AIRFLOW ® No Pain device, all you need is water, air and AIRFLOW® PLUS powder to fight bad biofilm with a winning smile.
Find out more on https://www.switchtogbt.com/en to discover how to protect your teeth from harmful biofilm for life. And how to share this unique feeling of clean teeth with the world around you. Keep smiling!
Video comparing AirFlow to traditional cleaning methods
Your professional dental periodontal wellness visits will include a dental exam, oral cancer screening, airway screening, home care coaching and the following:
Removal of calculus (tartar): Calculus is hardened plaque that has been left on the tooth for some time and is now firmly attached to the tooth surface. Calculus forms above and below the gum line and can only be removed with special dental instruments.
Removal of plaque: Plaque is a sticky, almost invisible film that forms on the teeth. It is a growing colony of living bacteria, food debris, and saliva. The bacteria produce toxins (poisons) that inflame the gums. This inflammation is the start of periodontal disease!
Teeth polishing: Remove stain and plaque that is not otherwise removed during tooth brushing and scaling.