Ozone Dentistry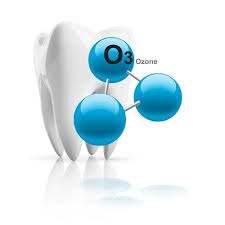 As a Functional Dentistry practice, we are continuously researching things we can do to improve our patients' health. We are excited to announce the addition of ozone dentistry!
There are many benefits of ozone. Ozone is made from oxygen and called O3. Ozone has been used in medicine and dentistry for many years and has been shown to cause the inactivation of bacteria, viruses, fungi, yeast, and parasites by disrupting the cell walls or viral capsules.
Ozone can be in a gas form, water form, and in products like oils, lotions, and lip balms. The water can be used during cleanings and in the water lines during dental procedures to keep a cleaner environment. Reversal and arrest of small cavities has been reported from ozone treatment. The ozone water and gas can help disinfect gum disease pockets by disrupting the bacteria that is causing the infection. Ozone can help with tooth sensitivity and can disinfect teeth to improve the longevity of fillings and crowns. There is also some healing improvement from ozone on surgical sites or ulcers/mouth irritations.
Benefits of Ozone in Dentistry:
Cavity fighting
Disrupts bacteria, fungi, viruses, parasites in the mouth
Helps decrease gum disease inflammation and infection
Decreases tooth sensitivity
Improves healing after surgery or trauma to tissue
Improve healing of ulcers and cold sores
We make fresh ozonated water daily to use in our dental equipment, so every procedure includes oxygen infused water to create a healthier oral environment and cleaner procedures.
Our hygiene wellness visits often use ozone gas to disinfect gums and decrease inflammation and sensitivity.