TMJ Disorders
Tempro-Mandibular Joint Dysfunction Syndrome (TMD) is a common condition affecting a wide variety of people. TMD is characterized by severe headaches, jaw pain of varying degrees, grinding teeth, and an intermittent ringing in the ears. The vast majority of TMD sufferers are unaware that the root cause of these problems is something that a dentist can effectively treat.
People with TMJ disorders may exhibit a variety of symptoms including:
Pain in the chewing muscles and/or jaw joint
Radiating pain in the face, jaw, ears, or neck
Difficulty or discomfort while chewing
Painful clicking or popping in the jaw joint when opening or closing
Headaches
Sleep disordered breathing disorders
Depending on the cause and symptoms, treatment options could include: an occlusal splint or nightguard, bite adjustments, airway evaluation for underlying sleep disordered breathing problems, orthodontics, restorative dental work, medications, Botox trigger point injections, laser muscle therapy, physical and massage therapy.
Sleep Disorders/Airway Screening/Snoring/Sleep Apnea
Sleep apnea is a serious chronic disease that may trigger other serious health problems such as:
Chronic sleepiness
Heart attack/stroke/high blood pressure
Heartburn/acid reflux
Morning headaches/teeth grinding
Depression/Anxiety/Weight gain
We screen our patients for these issues related to sleep disorders and work with sleep physicians to diagnose problems and develop treatment options. Oral appliances that open the airway for better oxygen flow during sleep are options for some people.
Airway Screening Steps:  
Identify oral signs and symptoms during dental visits:
Your tongue covers your airway naturally
You have a scalloped edge to your tongue
You have cheek ridging
You have a smaller mouth and high vaulted hard palate
Your teeth are not in alignment/crowded
Clenching and grinding
Mouth breathing
2.  Review medical history to look for clues of underlying issues such as:
High blood Pressure
Taking 2 or more high blood pressure medications
Acid reflux or GERD
Having a thyroid disorder
Having a heart condition
Previous history of heart attack and stroke
Erectile dysfunction
3.  Airway evaluation using Eccovision acoustic rhinometer and pharyngometer to measure airway flow through nose and mouth down throat.   The Pharyngometer uses sound waves to measure the size and volume of your airway during normal respiration, and upon exhalation.  It   measures the amount of air coming into your body.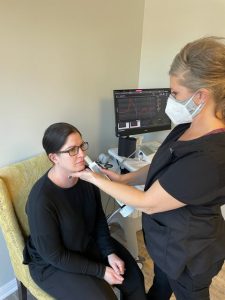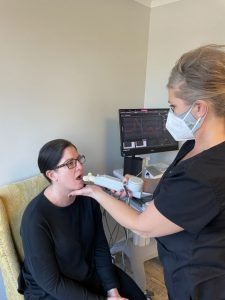 4.   The only way to diagnose obstructive sleep apnea is to have a sleep study either at home or in a hospital sleep center.  These are interpreted by a sleep physician to determine how severe the breathing issue is.  Sometimes, the patient will need to see an ENT, sleep physician, or pulmonologist to determine next steps.  Myofunctional therapy, orthodontics, surgery, and weight loss are also ways to help improve health.
5.   If indicated or if you are unable to tolerate a CPAP, we are trained in custom oral sleep appliances that can help stabilize the airway during sleep, improve the oxygen flow and decrease snoring.  Medical insurance sometimes helps with the cost of sleep apnea treatments including oral appliances.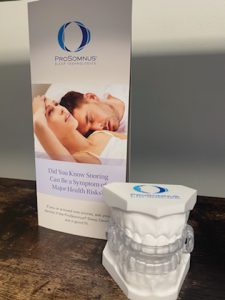 Please feel free to print these tests (requires free
Adobe Reader
®), fill them out and take them with you to your physician.
Sleep Apnea Self Tests
The Epworth Sleepiness Scale – Click to Download
How likely are you to doze off or fall asleep in the following situations?
Choose the most appropriate number for each situation:
0 = would never doze
1 = slight chance of dozing
2 = moderate chance of dozing
3 = high chance of dozing
| | |
| --- | --- |
| Activity | Score |
| Sitting and Reading | _____ |
| Watching TV | _____ |
| Sitting, inactive in a public place (theater, meeting, etc.) | _____ |
| As a passenger in a car for an hour without a break | _____ |
| Lying down to rest in the afternoon when circumstances permit | _____ |
| Sitting and talking to someone | _____ |
| Sitting quietly after lunch without alcohol | _____ |
| In a car, while stopped for a few minutes in traffic | _____ |
| Total | _____ |
*A score of 9 or above indicates you may be having a problem with daytime sleepiness but below 9 does not necessarily mean that you don't have a problem. See your healthcare professional for advice if you snore, have been told that you awake gasping for breath or if you are sleepy during the day.
Sleep Observer Scale – Click to Download
The following questions relate to the behavior that you have observed in the patient while he/she is asleep. Use the following scale to choose the most appropriate number for each situation:
0=Never
1=Infrequently (1 night per week)
2=Frequently (2-3 nights per week)
3=Most of the time (4 or more nights per week)
| | |
| --- | --- |
| Observed Behavior | Score |
| Loud, irritating snoring | _____ |
| Choking or gasping for air | _____ |
| Pauses in breathing | _____ |
| Twitching / kicking of arms or legs | _____ |
| Snoring requiring separate bedrooms | _____ |
| Falling asleep inappropriately (example: while driving or at meetings) | _____ |
|   |   |
| Total | _____ |
*A score of 5 or greater indicates symptoms which are affecting the health, safety, or quality of life of the observed person.