A Dentist's Journey to Help Her Daughter Breathe
by Sarah Poteet, DDS
Does your child snore?  This could be a dangerous sign that something is wrong.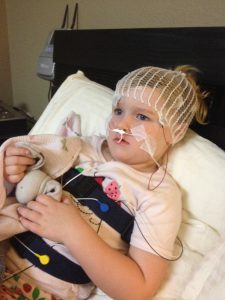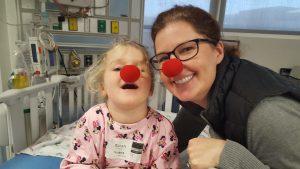 As dentists, we are becoming more aware of sleep, breathing, and overall health of our patients.  The younger these issues can be identified, the better the health, growth, and quality of life our patients can have.  I had been taking more courses about sleep disordered breathing and was seeing some "red flags" with my own 3-year-old daughter.  Some of these included: snoring, not wanting to go to bed at night, difficulty waking her up in the morning, moving all around the bed at night, signs of ADD/ADHD, hyperactivity, behavior challenges at school, chronic upper respiratory infections, and frequent strep throat.  I asked our pediatrician about her large tonsils and my concern about her snoring.  I was told not to worry that yes, her tonsils were large, but she would grow into them and that snoring is not a problem.  As a concerned mom and with my dental knowledge, I was determined to help my daughter breathe and sleep better.  I got her in for a sleep study at a sleep center that sees children.  We packed a bag of movies, stuffed animals, and her favorite blanket and made it a fun adventure.  It was tough to see her hooked up to so many monitors, but kids are resilient, and we made it through the night.
I am so glad she had the sleep study.  The results showed that she had severe sleep apnea and would stop breathing over 40 times every hour and her oxygen would dip dangerously low.  I immediately took her to a pediatric ENT who took one look at the sleep study and said we need to remove her tonsils and adenoids as soon as possible with a longer stay in the hospital to monitor her breathing.
Within months after the procedure, I was noticing remarkable changes.  She was sleeping more soundly and not snoring.  She was breathing through her nose better and wasn't getting sick as easily.  Her teachers started to see an improvement in focus and she was just a happier kid.  She went through a major growth spurt and her language skills improved.  I am so glad I didn't accept that snoring is normal in kids.  It isn't!!  If you child is a mouth breather, snores, stops breathing or gasps for air, has tongue or lips ties, speech and swallowing problems, please ask your dentist and doctor about these issues.   Mouth breathing will cause misshapen jaws, face, crooked teeth, and a poor bite pattern.  Early interventions can make such a difference in their life and often involves an ENT, orthodontist, myofuctional therapist, speech therapist, and dentist.
Here is a quiz to see if your child should be evaluated:    (Yes or No)
Does your child snore more than half the time while sleeping?
Does your child snore loudly when sleeping?
Does your child have trouble breathing or struggle to breathe while asleep?
Does your child stop breathing during sleep?
Does he/she occasionally wet the bed at night?
Is your child hard to wake up in the morning?
Does your child tend to breathe through the mouth during the day?
Does your child wake up with headaches in the morning?
Have you (or a teacher) commented that your child appears sleepy during the day?
Does your child seem restless, unable to sit still, or always "on the go"?
Does your child often interrupt others, have difficulty staying focused or become easily frustrated?
Is your child overweight?
Scoring:  0-5 Possible problem   6-12  Needs referral to Doctor (ENT)
Dallas Functional Dentistry
Copyright 2020   Sarah Tevis Poteet, DDS, PA