Highland Park College Scholarship Winner
We are thrilled to announce the 2014 recipient of "The Sarah Tevis Poteet, DDS Future Healthcare Professional Scholarship" was awarded to Virginia Smith. Virginia recently graduated from Highland Park High School and will be pursuing a Pre-Med degree this fall at Texas A&M University. We are proud to support Virginia as she starts college.
The "Future Healthcare Professional Scholarship" awarded by Dr. Sarah Tevis Poteet, was developed to help Highland Park senior students interested in pursuing an education and career in healthcare. Dr. Poteet's passion for dentistry and helping others stems from her own personal dental experiences, and she desires to encourage students to also make a difference in people's lives.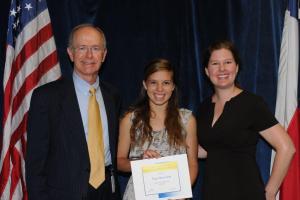 Highland Park HS Principal Walter Kelly, Virginia Smith, Dr. Sarah Poteet