Nasal Breathing and Lip Taping Tips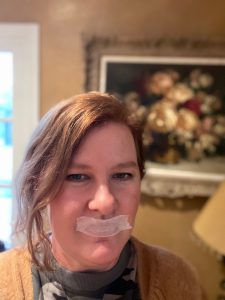 Nitric oxide is a super star for anti-aging.
Although an often-overlooked molecule, nitric oxide is an important key to numerous anti-aging health benefits. Improved memory and behavior, immune function, inflammation, sleep, and endurance are just some of reasons mouth taping for better nose breathing is one of the best anti-aging tips.
A large amount of your body's nitric oxide is produced naturally in the sinus cavity.
Mouth breathing has a significantly negative impact on our oral, dental, and overall health, because it drastically reduces the nitric oxide that gets to your blood.
Here are a few more of the benefits of Nitric Oxide to the body:
Enhanced memory and learning
Better regulated blood pressure
More regulated inflammatory response
Improved sleep quality
Increased endurance and strength
Better opportunity for weight loss
Improved immune/gut function
Decreased pain
Reduced risk of heart disease
Help with symptoms of anxiety and depression
Mouth breathing may be common, but it's not normal, and mouth taping is an easy, non-invasive solution.
Proper use of mouth tape—for any age adult—is not only a health benefit, but also one of the simplest and most effective anti-aging tips you can employ. Your body really likes it when you make more nitric oxide!
Dr. Poteet likes to use Somnifix lip tape.  Careful placement of the strips on your mouth, reusing tape if the adhesive holds up.  A less expensive solution is surgical or bandage tape that you can find at the drug store.
Tips:
Make sure you can breathe through your nose properly.  Saline nose sprays like Xlear can help clear out the sinuses.
Start to retrain your breathing during the day for shorter periods of time.
Work up to sleeping with lip tape.
Notice how you wake more rested and refreshed.  Your mouth won't feel as dry and your allergies will improve.
Sarah Poteet, DDS
Dallas Functional Dentistry
(214) 363-4414